Use Genuine Ford Parts for Your Next Repair in Berlin, WI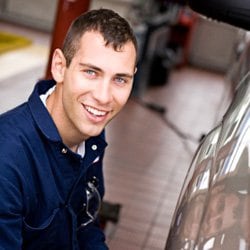 We understand that for many of our Berlin, WI and Oshkosh customers, part of the automotive experience is getting your hands dirty. And at our dealership, we couldn't agree more. That's why we take pride in our Ford parts center. At our parts center, you'll find a healthy inventory of genuine Ford parts and accessories, as well as helpful staff ready to locate the right one for you.
Why Should You Get Your Ford Parts From Us?
When you repair your Ford with genuine Ford parts, you know you're fixing your vehicle right, because you'll be using the same parts they install at the factory. Keeping your Ford vehicle running safely and efficiently means using the right parts, and at our Ford parts center, our Redgranite and Wautoma drivers can find just that. You're sure to find the right part for your needs at our dealership.
Not only is our Ford parts center stocked with the parts you need, but a knowledgeable team as well. Our friendly staff is ready to track down the part you need. That way you don't get home to your garage just to find out the part you purchased doesn't fit. Whether you're from Waupaca or Berlin, WI, our dealership has you covered. And that means you can count on us to ensure you get the right Ford part.
Don't Risk It When It Comes to Your Ford
If your Ford is in need of repair, visit our dealership today. At our Ford parts center, you'll be able to find the right genuine Ford parts for the job. And when you repair with genuine Ford parts, you can keep your vehicle on the road for longer. Order your needed part or accessory today!
PLEASE CONTACT MITCH FOR ORDERING PARTS OR QUESTIONS ON PARTS AT sondalleparts@centurytel.net HE WILL BE HAPPY TO ASSIST YOU!!